Wouldn't you like a safe garage door that will serve you for years to come with practically no problems? It can happen with our help. All you need to do is make arrangements with us for regular garage door maintenance in Channelview, TX. We will take care of the rest. What's important is to have a pro in your garage inspecting and maintaining your garage doors at least once every year. At Garage Door Repair Channelview, we send out experienced and knowledgeable pros that will do an excellent job.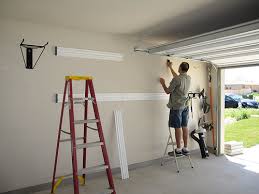 It's totally worth investing in preventive garage door services
If you are wondering why it is important to invest in an annual garage door maintenance service in Channelview, Texas, consider the factors that might take their toll on your system: humidity, elements, storms, daily usage, normal wear. Nothing gets better overtime. Parts wear and some of them – like springs and cables – will snap. You will experience loud noises and might have to prematurely replace hinges, tracks, or rollers. What the entire system needs is proper care for long-lasting results. And we can arrange garage door maintenance on the day and at the time convenient to you.
The service begins with inspection and the pros utilize their garage door troubleshooting experience and skills to find even the tiniest issues. What's important is to tighten every screw and clean each track so that noises will stop and the garage door will be safe. Lubes help to quiet down the door and also act as a protective layer between parts. And so you won't have to replace parts prematurely.
Garage door maintenance step by step
By testing all safety features and inspecting all parts the pros are given the chance to assess the condition of the system and see what adjustments must be made. From the chain of the opener to the tracks, springs, and the travel limit settings, they might make all sorts of adjustments to ensure the door goes down and up all the way and is balanced. So as an overall, maintenance includes:
Inspection
Garage door adjustment
Lubrication
Cleaning and fixing
Tightening fasteners
Troubleshooting
Schedule your Channelview garage door maintenance today to be sure of your safety and daily convenience. Call us now and our team will arrange your service with a local expert.